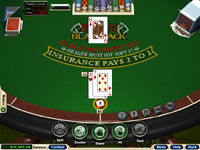 In European Blackjack, you are dealt two cards face up and the dealer is dealt one card face up. The goal of European Blackjack is to get closer to 21 points than the dealer without going over 21 points.
A "Blackjack" is a hand that totals 21 points with two cards. Blackjack automatically wins, unless both you and the dealer receive Blackjack, then you push. A total of 21 points with three or more cards is not considered Blackjack.
Point Values
Cards 2 through 10 = face value
Face Cards = 10 points
Aces = 1 point or 11 points, whichever makes a better hand
Example: 6 + Ace = 7 points or 17 points
To Play
Click chips to place a bet within table limits or click Rebet

Click Deal
Doubling - You can only Double once in European Blackjack with hard values of 9 - 11.
Splitting - You can split the first two cards dealt if they are of equal point value. When you split, you must place an additional bet that is equal to the ante. You will now have two hands. You can continue to hit for each hand, unless the split was made for a pair of Aces, in which case you can only hit once for each hand.
To Win
(meet one)
You get Blackjack.

Your hand is closer to 21 points than the dealer's hand and does not exceed 21 points.

The dealer's hand exceeds 21 points while your hand does not exceed 21 points.
How the Dealer Plays
Dealer Hits on any total of 16 or less

Dealer Stands any total of 17 (hard or soft) or more
Payouts
| | | |
| --- | --- | --- |
| Winner | Hand | Payouts |
| Dealer | | None |
| Player | Blackjack | 3:2 (first hand only) |
| Player | Other winning hands | |
| Dealer/Player Tie | Other hands | Recoup ante |
Casino Navbar

Switch to Real Money - When available in FUN mode, click Switch to Real Money to play with real money.




Balance - The balance is the amount of money available in your account. You can use your balance to place bets.




Cashier - Click Cashier to deposit money, withdraw money, or review past transactions.




Menu - Click Menu to open the menu and access Player Options and History.




Player Options - Click Player Options to turn full screen mode on and off, adjust the volume, turn dealer voices on and off when available, adjust card speed, and configure Autoplay options.




Help - Click Help to open the help page for the game.




Back - Click Back to close the game and return to the casino lobby.



Rules Tab
| | |
| --- | --- |
| | Rules - The Rules tab expands to display game rules, payouts, and dealer actions where applicable. |
These rules are believed to be an accurate representation of appropriate game play. They may or may not contain errors and/or omissions. We reserve the right to correct and/or change these rules at anytime with or without notice to the player. Malfunction voids all plays and pays.